Serendipity: Another Name for South Gurgaon
Date : June 10, 2019
Category : Affordable Luxury Living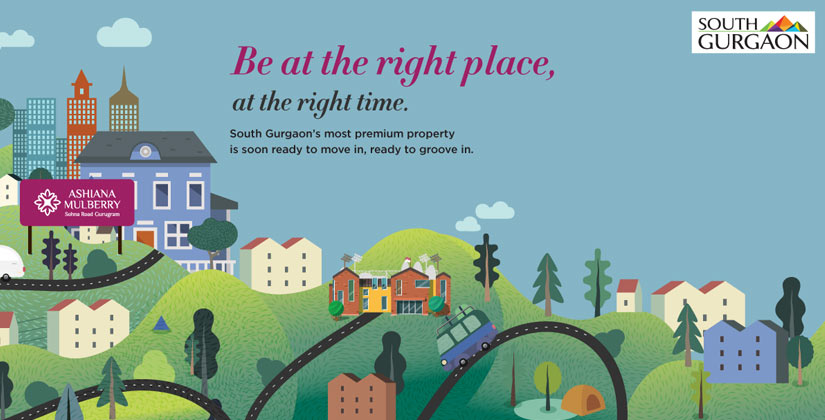 Owning a home is probably the most important decision in a your life. It's not a trivial thing, it's a dream that people work for most of their lives. When it comes down to buying a place, the first question that comes in your mind is "which locality should I look to buy my dream home?".
You ask your friends, family, relatives and even search on the internet for the most beautiful locality with the most promising amenities. And finally after tons of research and countless visits to your real estate agent, you finally choose your dream home and locality. But gradually you get to know that the locality you chose is not the fairy world your broker or agent promised.
As the days pass, you learn about more mishaps and issues in your locality that you never anticipated before. You wanted to live peacefully with your family but now you realize you are in a harsh environment. You sacrificed a lot in your life to save money and get home in a beautiful location and it turned down to be a foul reality. You thought of connectivity and convenience and for all that money you spent what you really got is big traffic jams and huge travel times.
These are the problems that most home buyers nowadays are facing in Delhi NCR and other large metropolitan areas. According to World Population Census, Delhi have a population of more than 18.6 million which makes it the fifth most populous city in the world and it will continue to grow.
You cannot imagine living peacefully in such a populous area. You have to choose a better location for your dream home. That's why South Gurgaon is the right place in the right time to invest and live.
Here are a few reasons to buy your dream home in South Gurgaon:
1. The biggest benefit that you will get in the South Gurgaon is relief from the hustle bustle of the busy city life. It's a safe haven away from all the noise, pollution, crowd etc. and yet seamlessly connected to all major parts of Gurgaon and Delhi.
2. The peace and health that everyone crave for in a city can't be achieved due to severe deforestration and mismanaged development of concrete jungles . In comparison, South Gurgaon is just the opposite. A quite hamlet in the foothills of Aravali, it boasts of green surrounding and environment that is suitable for you and your family's health. South Gurgaon is a properly planned area with an impeccable blend of greenery and architecture. With Damdama lake outside and manicured landscaping inside, this is the place to be.
3. Connectivity is no issue in South Gurgaon with the advent of Sohna elevated road. The connectivity to every landmark at Gurgaon is easily accessible, almost everything within 15 Kms. Moreover, South Gurgaon is connected to major highways i.e National Highway 248A that connects Gurgaon to Rajasthan and Haryana, KMP Expressway. Golf course extension will seamlessly connect you to IGI airport and south Delhi. This is today's South Gurgaon with excellent connectivity.
4. When you look out for a locality you have to keep education facilities in mind for your kids. South Gurgaon is an upcoming education hub and will be the best fit for your kids. With reputed universities and educational institutes, your children's future will be for sure bright. From GD Goenka to KR Mangalam, every kind of education is easily accessible here
5. South Gurgaon is full of businesses and job opportunities and will continue to grow with IMT Sohna in the vicinity. It is going to be an industrial hub that will create jobs and business opportunities making it keystone for the development of the area.
Owning a home in South Gurgaon is the investment for your present as well as your future. It will be definitely, the best decision of your life. South Gurgaon is a serendipitous location with perfect answers for your questions and will remain the same in the future with increased amenities.
Answer to the call of South Gurgaon, this is what your future needs – Right Place. Right Time.
Share this on
Browse category