Coziest Winter Decor Ideas for your Ashiana
Date : November 14, 2018
Category : Affordable Luxury Living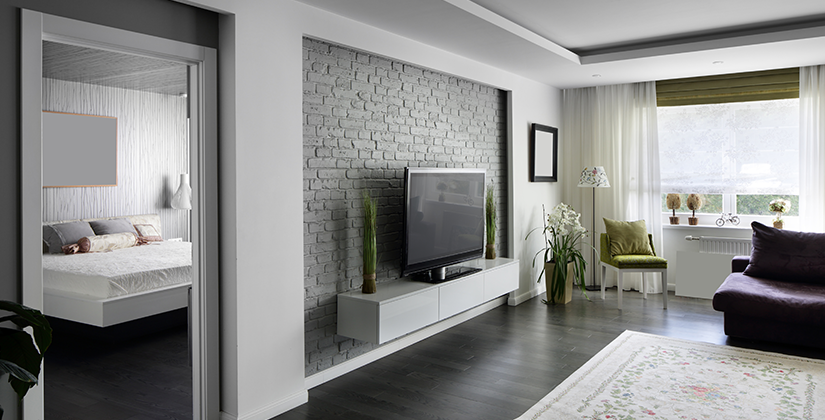 WINTER DÉCOR IDEAS TO SUIT YOUR NEXT DREAM HOME SEARCH
Are you looking for ideas to decorate your home for winters? Look no further. As temperatures dip lower, bring your focus inward by rearranging your furniture. Give your dream home a look that you can feel serene when you back from hard day.
If you possess a fireplace, pull pieces in toward the center of the room. Ensure that it is placed right in the middle to avoid any collisions. Plush fabrics and upholstery add a warm charm to your room. Don't miss decorating your space with these elements.
Add a style statement to your bedroom and prepare it for the season by layering in textured bedding, throws, and pillows. Winter room decor—like this luxurious velvet throw and soft faux fur bed pillows—turn a bedroom into a cozy refuge from harsh winter winds.
Infuse your space with pops of bright colours and avoid winter blues. Try the combination of flashy coloured curtains backed with serene coloured walls. The brightness of the room will ooze out and show multiple patterns after you see it finished.
Reflective State:
With shorter days, it's time to maximize the natural light. Hanging a large mirror on a blank stretch of wall or above a mantel display will reflect light throughout your space. Turn the mirror into a decorative display by painting the frame an eye-catching color or opt for the simplicity of winter white decor.
Window Dressing:
Even kitchens need a little TLC during the winter months. Adding bold window treatments to your kitchen windows, like the rich red curtains, will keep your workspace enjoyable. Create your own by purchasing a yard of fabric in the color or pattern of your choice, hemming the raw edges, and using clip-style curtain rings over rods.
Toasty Transitions:
Sheepskin is the epitome of cozy winter home decor. This element rapidly brings instant warmth to any room. Experiment with a sheepskin rug on the floor or toss one over an ottoman. You can also provide a toasty spot to tuck chilly toes while reading or relaxing.
Comfort Underfoot:
Although decor and accessories can go a long way toward cozying up your home, it's important to fill it with the smells of the season, too. A fragrant bowl of potpourri—in a wintry scent such as cinnamon, pine needles, or evergreen—can do the trick and will fill your home with seasonal cheers. Display the arrangement prominently on a mantel or as a casual winter table centerpiece. Ashiana Homes offers multiple amenities and unmatched infrastructure to fulfil your next dream home's desire. For more information and exciting festive offers click here
Share this on
Browse category