The increase in sales volume boosts up the Real Estate sector in FY19!
Date : July 1, 2019
Category : Industry News and Updates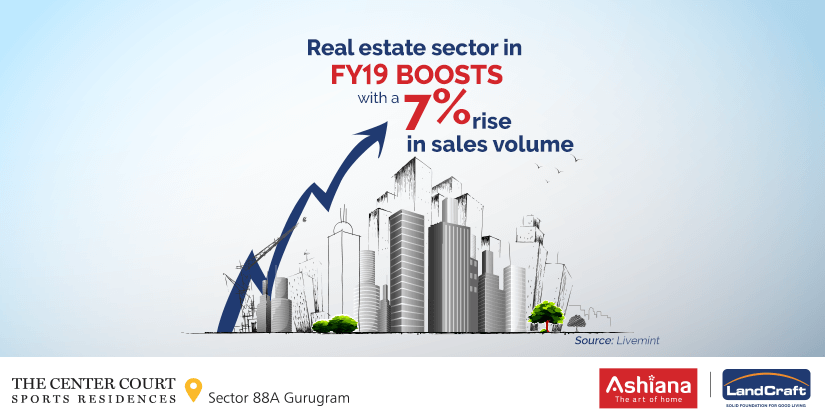 The financial year 2019 is turning out to be great for the real estate sector. The Nifty 500 index, in the year 2019 has risen by 6% in comparison to the previous year. But the most important factor favoring the real estate sector this year, is the rise of new launches under the RERA act, leading to higher sales. This will lead to the developers and homebuyers getting benefited equally.
The impact of Real Estate (Regulation and Development) Act (RERA)
Due to the liquidity- crunch post September 2018, the financial year 2019 was anticipated to be less beneficial for the real estate sector because of it, slamming the chances of recovery. But with the introduction of the Real Estate (Regulation and Development) Act (RERA), the sector was able to show resilience and it has helped the real estate firms on a large scale.
The real estate sector which was once unorganized, is now achieving legitimacy with organized developers launching more properties under the legislation. In fact, new launches under the RERA act have seen a sharp hike leading to significant increase in sales volumes.
Increase in sales volume
Compared to the year 2018, the sales volume this year has risen by 7%, coupled with a decline in new launches, cutting back inventory. Moreover, the latest cut in the repo rate, resulting in an overall decline of 75 basis points since August 2018, is expected to bring a big relief to the sector.
What's ahead for the Real Estate Sector?
With the improving scenario of the real estate sector, it is evident that the problems related to liquidity crisis are still pinching with some housing finance companies still under the weather. But it does not diminish the fact that things for the real estate sector are clearly getting better, compared to previous years.
Affordable housing for homebuyers
With the rise in new launches and subsequent increase in sales volume, residential real estate sales, led by affordable housing, have picked up pace and home buyers no longer have to worry about the expensive housing facilities cutting their pockets.
We at Ashiana Homes, value our customers' concerns and therefore offer focused execution, on-time delivery, cost effective and quality project completion to make the process of home buying easy and affordable for them.
Share this on
Browse category