The Center Court bags the award for the Best Luxury Project By ET Now
Date : March 5, 2019
Category : Affordable Luxury Living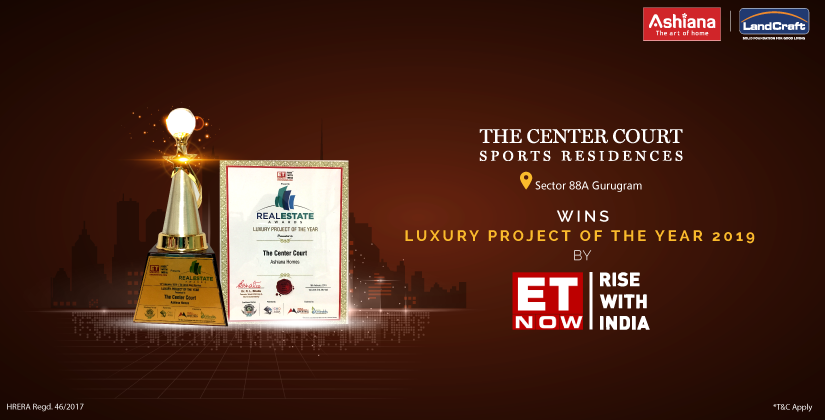 Bagging one award after the other, The Center Court stands proud of being one of the best luxury projects of 2019. After being awarded the Best Luxury Project (Elite Building Awards) at the ET NOW (RISE WITH INDIA) Real Estate Awards this February, it is confirmed that The Center Court offers maximum luxury to everyone. Winning this award has been an extremely proud accomplishment for us and we are happy that our dream of offering a luxurious living space to everyone is finally becoming reality.
The belief that living a luxurious life is expensive is just a myth. We can firmly say this because we ensure that luxury reaches everyone. Hence our luxury homes are priced reasonably that start from Rs. 86.07 lacs. In fact in the entire Delhi NCR area, we are the only people who have done so.
The Center Court isn't just a project with a number of buildings with walls. The character in The Center Court comes from the huge focus it lays on sports. Living in a sports residence makes a profound and positive impact on your family as well as on you. Our sports residences will make sure you stay fit in your body and positive in your mind.
Be it tennis or squash, we have provided you with facilities that will help you play your favourite games. The Mahesh Bhupathi Tennis Academy at The Center Court offers professional, world class tennis coaching to the residents. The two tennis courts at The Center Court are floodlit at night and constructed of the latest tennis surfaces that offer maximum player comfort and outstanding performance. If playing squash is what you have in mind, then our hardwood floored squash court will make sure you have a great time playing your game.
Being fit is the aim for almost every individual belonging to the 21st century. Keeping this in mind we have a Sportsfit Gym by M.S. Dhoni which comes with high quality fitness equipment and offers ample workout space. The volleyball court in the complex will offer you an intensive workout option while you have a blast with your friends and family as you play the sport. The basketball court ensures a fun time for young people while keeping them fit. With the cycling track and the jogging track you have an opportunity to keep fit the traditional way as well. The Center Court also comes with a golf course, a cricket practice pitch with bowling machine, a rock-climbing wall and a playing arena for kids.
The Center Court not only offers houses, but it makes sure you have a beautiful home. Be it a 3 or 4 BHK flat, each house is equipped with luxurious bedrooms, bathrooms, marbled dining area and state-of-the-art kitchens. The lobby in itself is designed by an award-winning Australian interior design company called HBO+ EMTB. The concierge service of The Center Court will help you by taking care of your travel plans, shopping, healthcare and many other such categories. The beautiful lush green view is absolutely breathtaking and will give you a relaxing feel.
So what are you waiting for? Get a feel of luxury soon. For more information, Click Here
Share this on
Browse category