The Center Court wins Best Luxury Project of The Year 2018
Date : December 4, 2018
Category : Affordable Luxury Living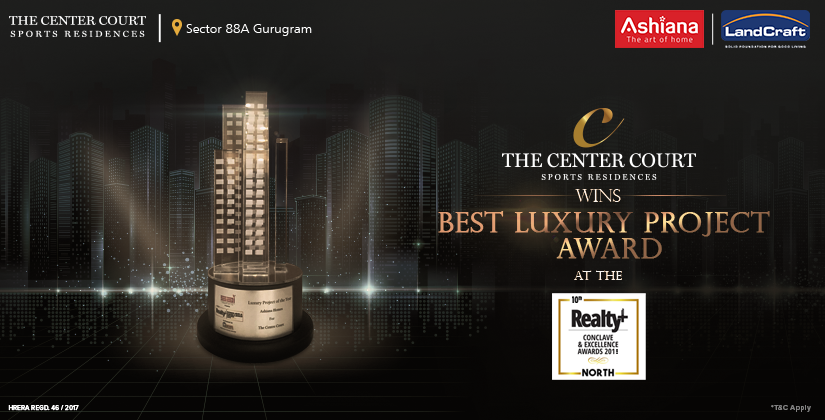 2018 sure seems to be a great year for us. We are proud to say that The Center Court,by Ashiana Landcraft won "Luxury project of the year, 2018" at the illustrious 10th Realty Plus Excellence Awards 2018 – North. We are ecstatic about our win, and the award is a recognition of our dream of taking realty lifestyles to the next level.
Luxury living doesn't have to come at a steep price. We've made that possible by providing homes starting from Rs. 86.07 Lacs onwards. We are the only such project in Delhi NCR to do so. We offer a multitude of facilities for you and your family. Our Center Court project is the perfect choice for you and your family if you'll lead an active lifestyle and love keeping fit.
Even if you are not that much into fitness, our sports residences is a place where you can make a fresh start. Taking up a sport is a great way to keep those glutes in shape and is medically proven as an effective way to combat health risks like cardiovascular disorder. And let's admit it, who doesn't want to look toned and in great shape!
The Center Court is a great place for your kids to learn a new sport. We have plenty of options that they can choose from. Taking up a sport as a recreation is also great for your kids' academic performance. It helps build concentration and enhances self-esteem. It will also instill a competitive streak in them, which in this day and age they definitely need. At the Center Court, you'll have access to 12 sports facilities. You don't have to get a membership to a club, or a sports academy to fuel your active lifestyle. All your options lie just a few steps away from you.
Is Tennis your sport of choice? Or are you a novice at the game? Whether you're a seasoned player or a beginner, you can be trained by some of the best coaches from the Mahesh Bhupathi Tennis Academy. The Academy was founded by the 12-time Grand Slam winner Mahesh Bhupathi himself. We have Putting Greens for Golf, a Volleyball Court, and even a Basketball Court, and nothing spells neighbor camaraderie like a good Basketball match. Besides these, we also have a cricket pitch for all those who love the game.
If you like to work up a sweat while jogging, then we have that as well. We have a jogging track and a cycling track. For the little ones to scamper about we have kids play area as well, where they can have a good time on the swings and seesaws.
At the Center Court, we believe in providing homes and not houses. We provide 3 & 4 BHK apartments, Penthouses, and villas. Each house comes with luxurious bathrooms, bedrooms, marbled dining areas, and contemporary kitchens. Even the lobby has been impeccably designed by an award-winning Australian interior design company called HBO+ EMTB. Residents also have access to a concierge service that can take care of their travel plans, shopping, healthcare etc.
And if all this wasn't enough, each and every home has a panoramic view of the lush landscape that surrounds the Center Court. You can sip on your morning espresso while taking in the breath-taking view of the verdant Palm tree garden and water features.
So, when are you planning on making the big move? For more information and exciting offers click here
Share this on
Browse category