Latest GST Rate Cut Brings a Smile on Hesitant Home Buyers
Date : April 16, 2019
Category : Industry News and Updates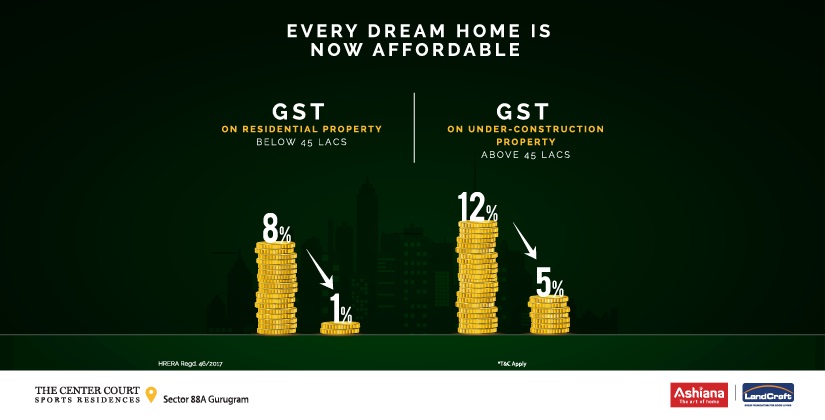 The Narendra Modi led central government announced in February a major decision of cutting the Goods and Services Tax (GST) charged on sale of under construction residential properties and other homes. However, it will surely stimulate the economy as the benefits will be carried over to the home buyers who will drive up consumption.The decision is expected to help the government move towards attaining its target of housing for all by the year 2022.
The new GST rate for all under construction and new housing projects will be 5% which has been brought down from 12%. For Affordable Housing Projects the rate has been dropped to 1% from 8%.  The decision of cutting GST rates was taken by the GST Council that comprises all state and central finance ministers. The new rates will come into effect from 1 April 2019. The builder here has option to use ITC at 12% and pass back credit at 7% or to Charge GST at 5% with no Input Tax Credit (ITC), however the net impact to customer will be 5% only.
How will this Decision Impact Home Buyers?
The studies conducted by various property experts show that there are over 5.88 lakh under-construction properties in the market, ready to be sold in the metros. 34% of these properties are priced under ₹40 lakhs. With a change in the classification, more properties will meet the requirements for this type. The GST rate cut will encourage more people to purchase homes falling in the budget range, benefiting both home buyers and builders.
Many real estate experts estimate that the latest GST rate cuts can reduce consumers'expenditure by 6%-7% on the total cost, based on the type. More people keen on buying new homes will also reduce unsold flats which have been troubling the market for a long time in India. With this rate cut, consumers would be more interested in purchasing under-construction flats unlike what used to happen earlier when they were opting for ready-to-occupy flats.
With the reduced tax burden on home buyers, there will be an increase in demand in the budget housing segment which, in turn, will keep real estate developers committed to building more homes.With 1% GST on budget housing, nuclear families and young consumers in large cities are likely to put their money on real estate. A wider range of home sales in non-metros will see a major reduction in cost.
However, there are still some issues that need to be sorted as some states have mentioned sourcing norms and valuation of land, possible revenue loss as some prickly issues in lowering the GST rate on housing.
Nonetheless, the reduction of GST from 12% to 5% on under construction properties comes as a golden opportunity for all prospective home buyers and solidifies the fact that the best time to buy a home, is now.
At The Center Court, you will find homes surrounded by fresh breeze and vast green spaces cocooned in secured gated complexes. If you love sports, you will surely love to stay at The Center Court as it has a world class tennis academy in addition to 12 other sporting facilities.The Center Court offers premium residences that focus on an active luxurious lifestyle whether you are part of a joint family or you are a senior, living a retired life with your spouse.
Click here to know more about The Center Court
Share this on
Browse category