Paint a Modern Touch To The Living Space
Date : August 29, 2018
Category : Affordable Luxury Living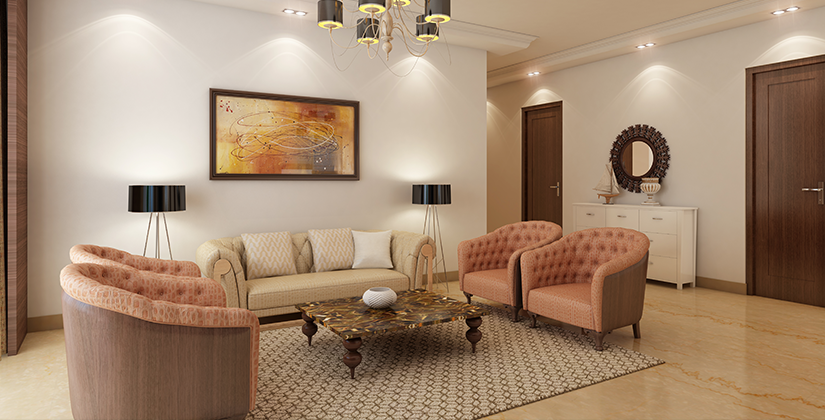 Living room is a personal space where we reminisce our memories of experiences left behind by guests. Adding a theme to the living room will not just boost the conversation but add to the charm of your house.
Make sure to invest time and effort into improvising a living room laced with comfort and luxury. Choose from a range of themes – traditional or contemporary. Here are a few tips to consider before you decide to redecorate your living room next time.
Natural Stones for a Timeless Feeling
Pedal with the trend of decorating your living room with natural stones that look natural, inviting and elegant. Besides the timeless outlook, using natural stones is more convenient to maintain. They are incredibly durable, and long lasting. The perfect way to incorporate natural stones in your modern room is by cladding the wall with different shapes.
Vibrant Colours for a Vibrant Living
Colours reflect your personality. Picking the colours that are an extension of your character can give warmth to the guests. Check out online sites to choose from a variety of colours or head out and explore the colourful side of you. Fabric sofas edge over leather in terms of availability of choice, texture, designs, and patterns. You will surely be spoilt for choices. Arranged the sofa sets? Great! Now let's go ahead and select matching items. The curtains determine the amount of light entering the living room. You can choose the curtains in a way that compliments your walls.
Diverse Choices for a Diverse Nation
Wall arts a plethora out in the market. Base the items to your theme and your choice to make a modern living room. Take care of the minute details like decoration of vase, hanging of a beautiful wall clock and a mirror. Place the artefacts like statues and sculptures away from the walkways, closer to the corners. Place the TV at a comfortable height and adjust the speakers to a resonating distance.
Ashiana Homes provides you with exquisite interiors to make your living a timeless experience. For more information click here
Share this on
Browse category